Can fissure be cured by medicines without surgery?
Author:
Dr. Naveen Chauhan, BAMS, CCYP, ROTP, CRAV
Consultant Ayurveda Proctologist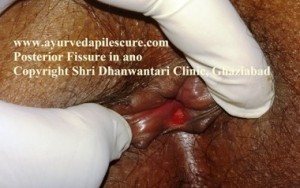 The most common question that has been encountered before me in last 12 years of my practice in Ano-rectal cases is that can Fissure or Piles or Fistula be cured without any procedure by medicines only?
As far as Fissure in ano is concerned a patient can have some relief to know the fact that in most of the cases, Fissure can be cured by medicines only. Only a very few cases require surgical intervention.
The underlying cause of Fissure is passing of hard stool or constipation that itself is due to various factors like inadequate intake of dietary fibres, inadequate intake of water and fluids, lack of exercise or physical activity, excess intake of spicy, junk food, excessive use of alcohol or excessive smoking etc. These all may lead to constipation and the hard stool may sometimes become a cause of Anal fissure.
If we can modify our life style and can be able to avoid constipation, we can prevent fissure easily. If however constipation is already there, some Ayurveda medicines like Haritaki, Triphala, Isabgol husk etc. can work effectively to relieve it and the underlying wound of Fissure can be healed by application of Ayurvedic oils like Jatyadi oil once constipation, the root cause is controlled.
Doing routine physical work and exercises, practicing yogasanas, Pranayam will help to improve digestion and to relieve constipation too.
In only very few cases (1 in 5) especially in those where fissure is accompanied by one or more sentinel tags, surgical procedure may be required to remove the tag. Kshara sutra ligation or Agnikarma exicision are very effective way to remove benign growths like sentinel tags.
If patient follows his Physician's instructions, I feel Fissure in ano can be completely cured by minimum medicines only without any surgical procedure.
**Author is a qualified Ayurveda Surgeon and is practicing Kshara sutra treatment since past 12 years. The above article is for patient education and not a substitute for a medical advice. Dr. Chauhan can be contacted through email nchauhan.dr@gmail.com or by phone +91-9818069989